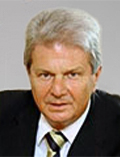 It is with great pleasure that I see on the golf course and at the St. Leon-Rot Golf Club that the players are getting younger and younger. In most German golf clubs 10 years ago 12-year-olds were still considered to be "Bambini", today it is 3 to 5-year-olds. At the St. Leon-Rot Golf Club, it is very important to me to support this development.


We specifically support children and young people who have a passion and talent for golf. Our goal is to spread golf more widely in Germany and to improve the level of performance in German golf internationally. All of this requires the right training environment, golf courses, committed and qualified trainers, administrative support and financial commitment.


The St. Leon-Rot Golf Club specifically supports children and young people from the area. Maybe one day a new golf star from our area will be able to inherit from Bernhard Langer.


Dietmar Hopp
Honorary president of Golf Club St. Leon-Rot